---
Personal Safety
---
Avoiding Burns
Burns and scalds can be caused by griddle, fryers, stoves, toaster, hot utensils, boiling liquids, hot pots, steam, hot foods.
Wear Neoprene safety gloves when the cleaning the fryers and the griddle
Assume all pots and metal handles are hot
Allow fryer grease to cool to 160 degrees before filtering or disposing
Do not leave metals spoons in pots while cooking
Do not overstretch to reach an uncomfortable distance
Slips and Falls
Observe the following rules to prevent slips and falls:
Wear the proper shoes
Keep floors clean and dry
Use warning signs for wet floors
Point out spills to others and immediately proceed to mop up
Shoes
Shoes with the following attributes must be worn for safety reasons.
Slip-resistant soles with a good tread
No leather or smooth soles
No open-toed shoes
Proper Lifting
Size up the load
Back strait - butt out - head forward
Bend at knees
Lift
Knife Safety
Keep item you are cutting on the cutting board - not up in your hand
Cut away from body
Keep thumb and other fingers out of the way
Fryer Safety
Never spill water into fryer
When filtering or changing oil:

turn fryer off and allow the oil to cool to 160 degrees before handling the oil
wear Neoprene safety gloves
do not attempt to lift a full pot of oil, use small ladling pan instead
do not stand on a ladder or step-stool for filtering or changing hot fryer oil
follow fryer oil filtering and fryer oil changing instructions on the shift duties tablet
Non-Escalation Policy
A positive outcome for any interaction with a disruptive customer is what we want. It is therefore vitally important that you do not "engage verbally" with or react to disruptive customers in a way that might escalate the "situation". Remain calm, do not argue, and never engage physically with anyone.
No Hats, Hoodies or Sunglasses Policy (for customers)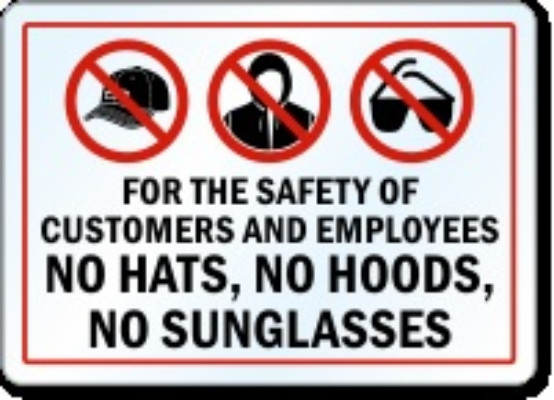 This purpose of this customer policy is to add another layer of protection. For those customers who fail to notice the sign, politely say "for safety reasons, please remove your hat, hoodie, and/or sunglasses".
---
Certification of Training
Please sign click here.
Copyright © 2022 Aldridge, Inc.

The material in this site cannot be republished either online or offline, without our permission.